Why an India eVisa instead of a Paper Visa?
Overview
If your travel carries a tight deadline and you are from one of the eligible countries, we recommend the eVisa over the paper visa due to the quickness in processing, limited information required, and no physical documentation needed for processing.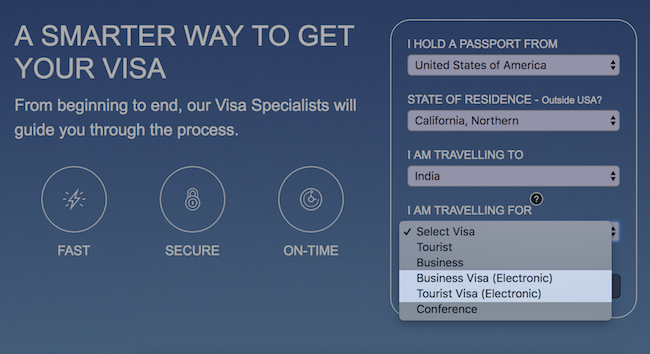 Eligibility
Eligible Nationalities
The India eVisa is currently eligible for nationals of the following countries:
Albania, Andorra, Angola, Anguilla, Antigua & Barbuda, Argentina, Armenia, Aruba, Australia, Austria, Azerbaijan, Bahamas, Barbados, Belgium, Belize, Bolivia, Bosnia & Herzegovina, Botswana, Brazil, Brunei, Bulgaria, Burundi, Cambodia, Cameron Union Republic, Canada, Cape Verde, Cayman Island, Chile, China, China- SAR Hong Kong, China- SAR Macau, Colombia, Comoros, Cook Islands, Costa Rica, Cote d'lvoire, Croatia, Cuba, Cyprus, Czech Republic, Denmark, Djibouti, Dominica, Dominican Republic, East Timor, Ecuador, El Salvador, Eritrea, Estonia, Fiji, Finland, France, Gabon, Gambia, Georgia, Germany, Ghana, Greece, Grenada, Guatemala, Guinea, Guyana, Haiti, Honduras, Hungary, Iceland, Indonesia, Ireland, Israel, Italy, Jamaica, Japan, Jordan, Kazakhstan, Kenya, Kiribati, Laos, Latvia, Lesotho, Liberia, Liechtenstein, Lithuania, Luxembourg, Madagascar, Malawi, Malaysia, Mali, Malta, Marshall Islands, Mauritius, Mexico, Micronesia, Moldova, Monaco, Mongolia, Montenegro, Montserrat, Mozambique, Myanmar, Namibia, Nauru, Netherlands, New Zealand, Nicaragua, Niger Republic, Niue Island, Norway, Oman, Palau, Palestine, Panama, Papua New Guinea, Paraguay, Peru, Philippines, Poland, Portugal , Republic of Korea, Republic of Macedonia, Romania, Russia, Rwanda, Saint Christopher and Nevis, Saint Lucia, Saint Vincent & the Grenadines, Samoa, San Marino, Senegal, Serbia, Seychelles, Sierra Leone, Singapore, Slovakia, Slovenia, Solomon Islands, South Africa, Spain, Sri Lanka, Suriname, Swaziland, Sweden, Switzerland, Taiwan, Tajikistan, Tanzania, Thailand, Tonga, Trinidad & Tobago, Turks & Caicos Island, Tuvalu, UAE, Uganda,Ukraine, United Kingdom, Uruguay, USA, Uzbekistan, Vanuatu, Vatican City-Holy See, Venezuela, Vietnam, Zambia and Zimbabwe
Eligible Purpose of Travel
Travelers whose sole objective of visiting India is recreation, sight seeing, casual visit to meet friends or relatives, short duration medical treatment or casual business visit are eligible for the eVisa.
Visa Duration
Single Entry is permitted on e-Conference Visa
Multiple Entry is permitted on e-Tourist and e-Business Visa. Multiple entries are valid for 12 months
---
---