What is the difference between a Foreign Ministry Invitation and a Company Business Invitation when applying for a Russia business visa?
To travel to Russia for business purposes, you must obtain an official Russian Business Invitation. You may either obtain a company invitation or a Foreign Ministry invitation based on the nationality of your passport.
Company Business Invitation
Only US Passport holders and passport holders of Schengen countries can use an invitation from a Russian based company.
The invitation letter 
 must be issued by a registered Russian-based organization, and will require the company tax ID (INN number).
If the tax ID in the letter starts with a 9, then a Certificate of Registration from the company must also be provided. 
Requirements for the company invitation letter:
must be in Russian, and must be accompanied by an exact English translated copy
can be a copy; it can be emailed
does not have to be in color
must contain a company stamp or seal
must be on company letter head from the company you are visiting in Russia
must match the required information listed in our template 
The minimum processing time with a company invitation is 12 business days at the consulate.
Foreign Ministry Invitation
If you are not eligible for a company invitation you must acquire a Foreign Ministry Invitation from the Russian Government. Visa duration and number of entries a traveler is eligible for is based on passport nationality.
If you have obtained your own invitation you need to send us the original.
If you cannot acquire the invitation, Peninsula Visa can obtain an invitation letter on your behalf. Your Russian Business Invitation will be sent directly from the Ministry of Foreign Affairs, or the Ministry of the Interior, directly to the embassy or consulate issuing your visa. You will not receive a copy of this document.
There is a separate processing time and fee. Please order using the link: Foreign Ministry Invitation
The minimum processing time with a Foreign Ministry invitation is 7 business days at the consulate.
Sample of the Foreign Ministry Invitation Letter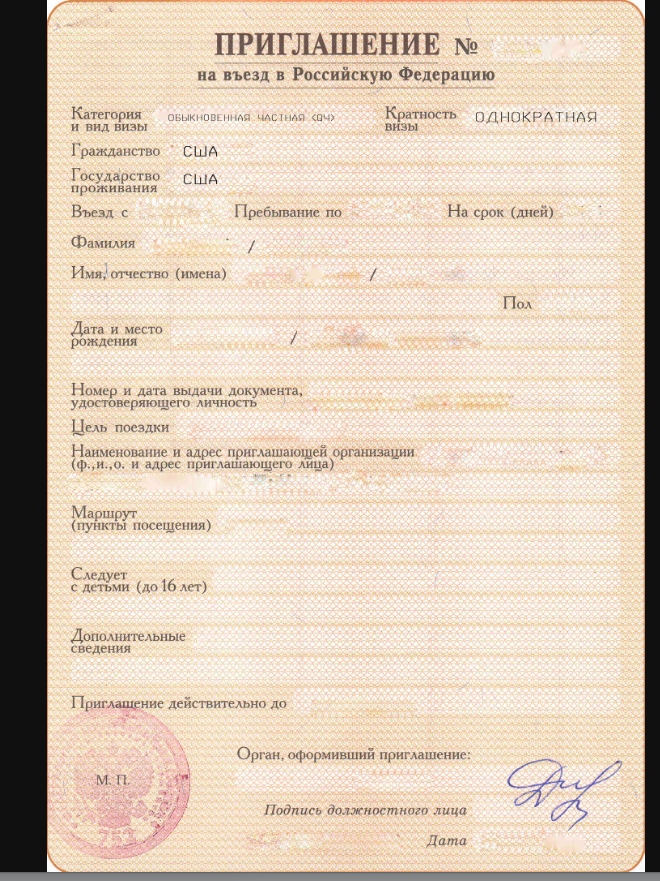 ---
---