About the Vietnam Visa Application
Overview: The Vietnam visa is a one page application that can be handwritten. If you are applying for a paper visa, you must submit two 2x2" visa photos.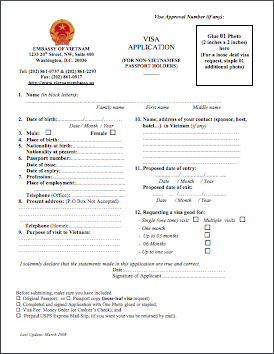 An example off The Vietnam visa application.
Filling out the application:
1. Name: Please write your full name exactly as it appears in your passport. 
2. Date of Birth: The day, month and year you were born. 
3. Gender: Select your legal gender. 
4. Place of birth: The city and country you were born in. 
5. Nationality at birth: What nationality were you born into. 
5.1. Nationality at present: Your current nationality.
6. Passport number: Your passport number that can be found in the top righthand corner of your passport date page.
6.1. Date of issue: Also found on the passport data page, the date your passport was issued. 
6.2. Date of expiry: The date that your passport expires. This is listed on your passport data page. 
7. Profession: Your occupation and or title.
7.1. Place of employment: The full address of your Employer. 
7.2 Telephone: Your Employers phone number. 
8. Present address: Your current address. This must be a residential address and cannot be a P.O box.
8.1. Telephone: Your home or cell phone number 
9. Purpose of visit to Vietnam: Describe your purpose of visit, business or tourism. Please give as much detail as possible. 
10. Name, address of your contact (sponsor, host, hotel) in Vietnam: For business please write down the information of the host company and a contact in Vietnam. For tourism please list the hotel or residential address with the name of the contact if you will be visiting a person in Vietnam. 
11. Proposed date of Entry: The date that you plan on entering Vietnam. YOUR VIETNAM VISA WILL NOT BE VALID UNTIL THIS DATE. IF YOU TRY TO ENTER BEFORE THIS DATE YOU WILL BE DENIED ENTRY TO VIETNAM. 
11.1 Proposed date of exit: The date you plan on leaving Vietnam.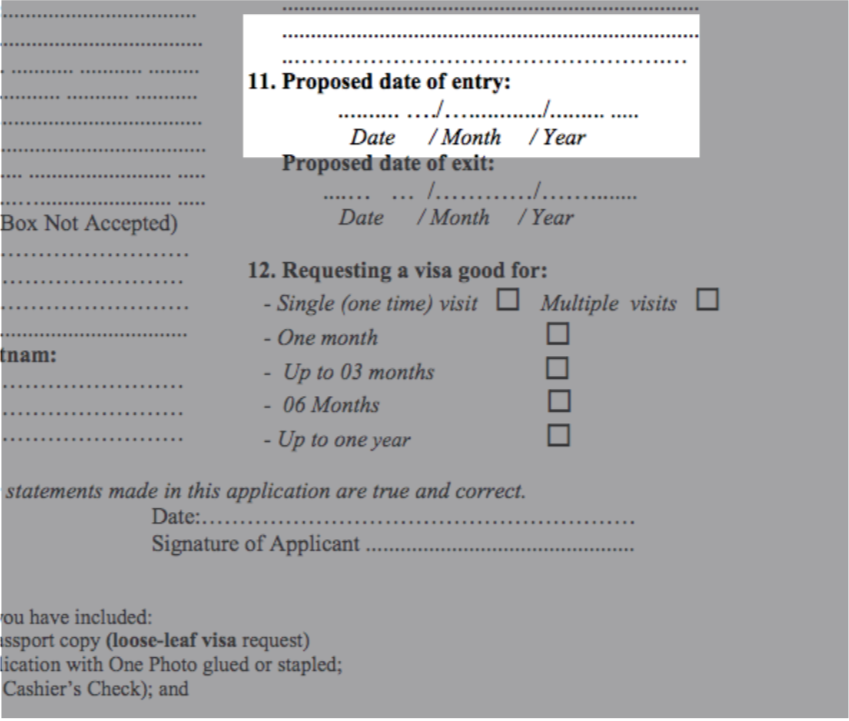 Here is an example of question 11, Proposed date of Entry.       
12. Requesting a visa good for: Select wether you need a single, or multiple entry visa and then specify the duration of the visa you are requesting.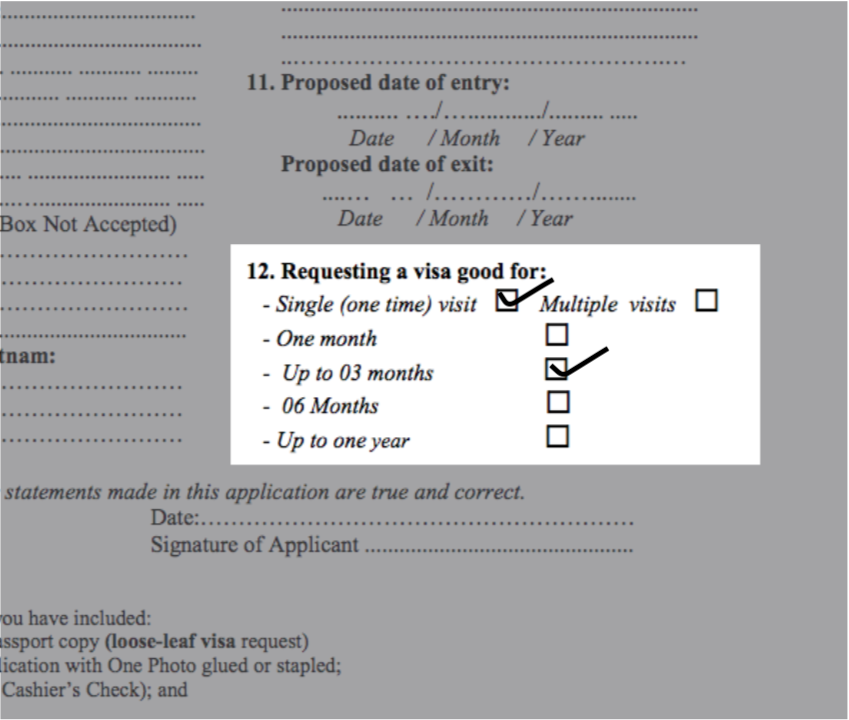 Here is an example of question 12. A single entry three month visa has been selected. 
Please remember to date and sign this application by hand. This must be an original signature. 
---
---