About the Thailand Visa Application
Overview
The Thailand visa application is a one page application. The application may be typed or handwritten.  
Filling out the application
Explanations of each question on the application are listed below:
Name: Indicate your gender and list your name exactly as it appears in your passport. 
Former name: If you have ever changed your name, please list your old name.
Fathers name: Your Fathers Full name, including a middle name if he has one. 
Nationality: Your current nationality.
Nationality at birth: If you were born in another country under another nationality, please list your old nationality here. 
Birth place: Your Birth city and country.
Martial status: Write married, divorced or single. 
Date of birth: The Day, month and year you were born.
Type of travel document: Write passport. 
No.: Your passport number 
Issued at: City your passport was issued. 
Date of issue: The date your passport was issued.
Date of expiry: The date your passport is no longer valid.
Occupation: Please list your job title and company name in this section. 
Current address: This will be the address that you currently reside in. Please list the full address including city, state and zip code. 
Tel/E-mail: Please list your best contact number and E-mail address. 
Permanent address, Tel/E-mail: If your permanent address and contact information is different from what you listed above, please fill out this information. If it is the same, please write N/A
Names, dates and places of birth of minor children: Only complete this section if you will be traveling with minor children. If not, write N/A.
Date of arrival in Thailand: The date that you plan to enter Thailand.
Traveling by: Here is where you will list your airline. 
Flight no. or vessel name: Please find this information on your airline ticket and list it here. 
Duration of proposed stay: Enter the number of days you plan to stay in Thailand. 
Date of previous stay in Thailand: If you have been to Thailand, please list dates here. If you have never been to Thailand before, write N/A.
Purpose of visit: Please select wether you are traveling for business or tourism. 
Countries for which travel document is valid: If you have a passport, write "All".
Proposed address in Thailand: Please give the hotels name and address in this section. 
Name and Address of local guarantor: For business, please give your company name and address.
If you are traveling for tourism, write, myself and give your home address. Please include the city, state and zip code.

If you have a physical address in Thailand, use that. If not, then just write down any hotel name  and address in Thailand.

Name and Address of Guarantor in Thailand: For business please give your inviters name, company name and company address in Thailand. 
At the top right hand corner of the application, you will find this section: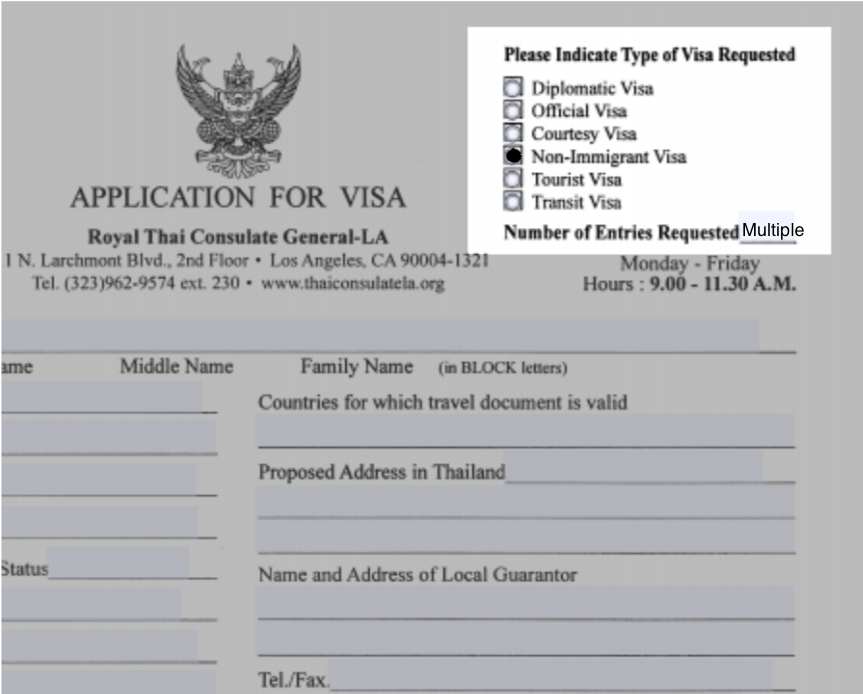 Please select "Non-Immigrant Visa" And indicate wether you will need single or multiple entries. 
---
---