Can I get a visa on arrival for Vietnam?
Vietnam Visa on Arrival (VOA) is an online, alternative way to obtain a visa to visit Vietnam for business or tourism.
 Travelers are advised to arrange Vietnam Visa before their departure by applying online for the Approval Letter first, receive the letter by email, then get visa stamped on their passports at Vietnam Airports upon arrival.
We remind you that this application is not being made through the Vietnam Consulate.
Copies of your Approval Letter will also be forwarded on your behalf to Vietnam Immigration checkpoints at each of Vietnam's three international airports in Hanoi, Ho Chi Minh City, or Da Nang (online visa approval only applies to air travelers who arrive at one of Vietnam's international airports; travelers arriving by land or sea must apply for a visa through a Vietnam Embassy).
When you arrive in Vietnam, the Immigration officers will have your documents ready and will be able to issue you your entry visa.
Step 1 — Fill out a application form online (you will need to know your arrival date and the name of the airport at which you will arrive)
Step 2 — Pay the visa servicing fee online
Step 3 — Within two business days, you will get an email with your official Vietnam visa Approval Letter issued by the Vietnam Immigration Department
Step 4 — Print the Approval Letter and prepare two (4cm x 6cm) photos of yourself according to noted requirements
Step 5 — Bring the printed Approval Letter, photos, and the government Stamping Fee (along with your passport and any other required documents) with you on your trip to Vietnam
Step 6 — When you arrive at your destination airport in Vietnam, go to the "VOA" or "Landing Visa" counter, present your Approval Letter, passport, photos, and cash payment for the Stamping Fee in order to receive the visa stamped in your passport.
Visa on Arrival Approval Letter Sample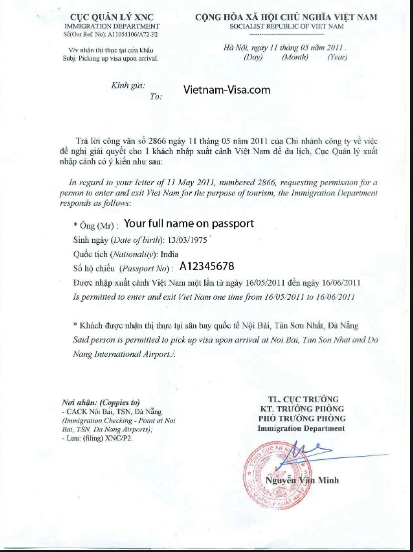 Please check that your airline will allow you to board without a valid visa in hand. 
---
---